Enjoy the benefits of certified Ford service near your local area at the Lovegreen Motor Co service center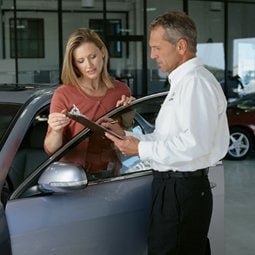 If you're anything like us, you love the feeling of driving a new car, and you want your car to feel like new for years and years to come. Fortunately, one of the best ways to ensure that, and avoid costly repairs in the future is to keep up with your Ford manufacturer-recommended maintenance. And with years of Ford service expertise under our belts here at Lovegreen Motor Co, there's no one better equipped to serve your car care needs than we are.
Service your Ford at Lovegreen Motor Co
From smaller maintenance tasks like oil changes and inspections to large repairs like brakes, transmission, exhaust (and more), drivers can count on the Lovegreen Motor Co service team. From routine service on your Ford vehicle to service on other brands, Palmyra drivers can look to our service team with confidence. Beyond this, Missouri drivers can look to our service team for warranty and recall assistance (depending on your brand and model).
Convenient, Easy to Use, and Courteous
Not only can you expect expert care and attention when you visit our Palmyra service center, you can also expect a service transaction and process that's easy, efficient, and exceptionally customer-service orientated. We go out of our way to give our customers exactly what they need, including an online service scheduling tool that allows you to pick the day and time to bring your vehicle in. Schedule your appointment soon and see firsthand how much easier it is to check vehicle maintenance off your to-do list with Lovegreen Motor Co.